Based in Bulgaria, we are a renown company producing high quality Melissa Officinalis Essential Oil, Lavender Essential Oil, and Organic Apples. Our company has been operating in the field of production and wholesale of Organic Lavender Oil and Melissa Officinalis Essential Oil for a nearly 10 years. What is more, we are one of the best Organic Apples producers in the country as well.
What makes our essential oils and Organic Apples one of the best in Bulgaria is the technology we use. Each member of our team is an expert in the field of production of Lavender Essential Oil and Melissa Officinalis Essential Oil. Choose our products and get 100 per cent natural Lavender Essential Oil and Melissa Officinalis Essential Oil and pesticides-free apples.
Any business, incorporating Organic Lavender Essential Oil and/or Melissa Officinalis Essential Oil in their products will find that we are the best suppliers of these essential oils in the country. In addition, the price of our production is determined in accordance with the quality of produce.
Want the best? Choose us.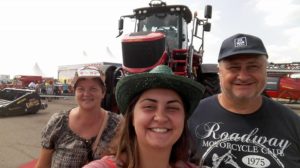 We are a family company, working in the field of production of Bulgarian Lavender Essential Oil and Melissa Officinalis Essential Oil, as well as Organic Apples. Our company is based in North-Eastern Bulgaria, more precisely in the Dobrudja region.
We are professionals, determined to supply merchants with 100 per cent organic essential oils. But the client do not have to simply trust our word, for what assures the client of the excellent quality of our 100 percent natural essential oils is the CERES certificate of our produce.
Lavender Essential Oil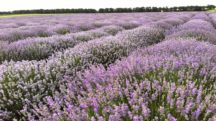 Lavandula angustifolia, more commonly known as lavender, is one of the most widely spread oil-bearing crops in the world. Generally, Lavender Essential Oil is used in cosmetics, pharmaceutics, and in the perfume industry, etc. But its uses do not end there: the essential oil is widely used in the food industry in raw or processed form as well.
Lavender Essential Oil is widely used in home aromatherapy. In addition, lavender is used in agriculture for plant protection in the sphere of organic production and some farmers even use it as a natural plant growth regulator. In the United States, lavender is used in the entertainment business, photographic tours, etc.
New properties of the plant are discovered, and with it the demand of lavender essential oil is rapidly growing as well. But consumers are not keen on using inorganic Lavender Essential Oil. It is 100 per cent natural lavender essential that is demanded worldwide.
With the discovery of new beneficial uses of lavender essential oil, the global lavender market is quickly developing, and new technologies of production emerge every day.
Leading in the Organic Lavender Essential Oil production in the European Union are France and Bulgaria – together the countries account for nearly 2/3 of EU's export of Lavender Essential Oil. Bulgaria has rich traditions in the production of the essential oils, which explains why Bulgarian Lavender Essential Oil is often considered most valuable.
Lavender is grown all across the country. However, the Lavender Essential Oil produced in the Dobrudja region is regarded as purest.
Melissa Officinalis Essential Oil

Melissa Officinalis Essential Oil, also known as lemon balm, is an essential oil named after its fresh and citrus-like scent (in Greek, melissa means "honey bee"). The oil has been used for centuries mostly for relaxation purposes. Melissa Officinalis Essential Oil is an excellent anger pacifier; the oil is known to help people, struggling with sleeplessness, too. In addition, Melissa Officinalis Essential Oil is considered one of the most potent natural oils and it is widely used to enhance wellness during the harsh winter months.
Organic Melissa Officinalis Oil is among the best natural spirit lifters, restoring mental balance to its optimal state. The essential oil's healing purposes were discovered a long time ago. For example, an ancient herbal medicine produced by Melissa Officinalis Essential Oil was widely used throughout Europe and Asia to relieve stress and stress-induced headaches. Furthermore, Melissa Officinalis Essential Oil is thought to help strengthen memory. Interestingly enough, in Germany and Switzerland the Organic Melissa Officinalis Essential Oil is dubbed "the Life's elixir".
Bio Melissa Officinalis Oil is comprised of more than 70 active compounds, including citronellal, germacreene, neral, etc., which account for 96 per cent of the oil.
Organic Apples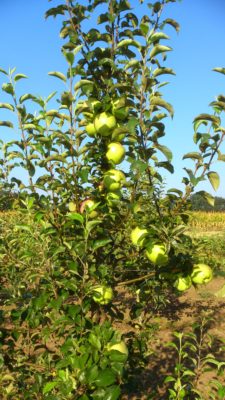 Eating an apple a day keeps the doctor away, right? All the better if that apple is organic. What makes Organic Apples better? Are they really better or is the "organic" part a marketing trick we use to lure the client into buying our produce? The answers of these question follow below.
Firstly, yes, Organic Apples are better than regular apples, as they are pesticide-free. Pesticides, as some may know, are chemicals used to exterminate pests and weeds. But it is not only apple trees and leafs that are sprayed, but the fruits as well. Thus, pesticides remain on the skin of apples and some even permeate into the core of the fruit. Pesticides made apples the "most contaminated fruit" of 2013, according a statistics made by The Environmental Working Group. Yet, our Organic Apples are completely pesticide-free.
Whether people admit it or not, pesticides are toxic: after all, they are used to eliminate living organisms. Pesticides are harmful to apple fruits, to workers in apple gardens, and to us – consumers. What is more, pesticides make apples taste completely different.
Conversely, Organic Apples are poison-free, delicious, and completely safe for consummation. Actually, Organic Apples taste nothing like conventional apples – they taste good. This is largely due to the methods used in harvesting Organic Apples. What is more, Organic Apples are affordable. While most organic foods are unaffordable for the average person, our Organic Apples are affordable, especially during the fruit's prime season.
Finally, we hope we have caught your attention.